Absence
Children are expected to be at school throughout the term, including the first and last days, unless they are ill. Please arrange holidays and overseas trips around the school holidays and mid term breaks. If a child is absent, a letter is required from the parents/doctor.
Please inform the School if your child is absent.
Attendance is compulsory on some Saturdays during the year eg; sports day. Please refer to the events calendar for these dates.
Prep Aftercare
The School offers an Aftercare service everyday until 6pm at an extra cost.
Prep Assemblies
Assembly is celebrated every week, on a Monday morning at 7.30am. All classes have a turn to host an assembly and all parents are warmly invited to attend.
Assessments
Both formal (written tests, speeches, oral demonstrations, projects etc) and informal assessments are conducted regularly to assess and identify the needs of our pupils. Assessment schedules are communicated at the beginning of each term as well as in each grades Weekly Communication.
Birthdays
Parents are encouraged to keep parties simple. If pupils wish to celebrate a birthday at school, parents may send cup cakes or a cake to school on the appropriate day to share with the class. Sweets, chips, ice cream etc are not allowed.
Because we understand how to best assist and support a child with learning difficulties, we have developed specific educational programmes to meet your child's special needs.
Programmes
Cedarwood Preparatory School and College provides an academic education of high standard which integrates the National Curriculum from Grade 1 to Grade 12, with individualised remedial and therapeutic support in order to remove your child's learning barriers as quickly and thoroughly as possible. Areas of strength are identified and emphasised early on.
In an atmosphere of calm understanding and fair discipline, pupils are encouraged to reason and problem-solve using a variety of teaching methods and learning strategies.
Cedarwood School's creativity programme utilises the arts, music, design and technology, and creative visualisation. This encourages the development of your child's imagination and lateral, out-of-the-box thinking, as well as enhancing personal strengths and artistic talents.
Because we know that many of our children lack social interaction skills and self-confidence, Cedarwood Preparatory School and College have developed a unique emotional intelligence module which guides and supports your child emotionally, socially and spiritually. Weekly class sessions with our head psychologists teach children how to build interpersonal relationships effectively, to work cooperatively with one another with mutual respect, to grow self-awareness and self-confidence, and to develop positive attitudes and ethical human values.
On-going wrap-around meetings are held with the Headmistress / Headmaster, Heads of Department, teachers, therapists and parents to set objectives and to evaluate progress in order to meet your child's individual needs. Termly reports and annual scholastic assessments assist with this process.
Educational Approach
Because we believe in being the best that you can be, Cedarwood Preparatory School and College strives to search out and retain the highest quality educators and staff. Working on an educator-to-learner ratio of 1:14 (depending on the grade), our school can intensively remediate and assist the learner in developing strengths while resolving learning difficulties. Thus, all class teachers are remedially trained and have extensive experience in teaching learners with specialised educational needs.
In addition, Cedarwood Preparatory School and College offers the following:
Additional educators as full time class assistants in each Grade 1 and Grade 2 class.
Support therapists in speech and remedial therapy as in-class support as well as pull-out therapy with small groups.
Weekly Reading Laboratory for classes from Grade 4 to Grade 6 taught by a remedial specialist.
Life skills and life orientation classes taught by the school's educational psychologist.
Dedicated Arts, Computer, as well as professional Sports Coaches.
Support therapists available on site (Occupational Therapy, Speech and Language Therapy, Physiotherapy and Play Therapy)
Intensive Remedial / Scholastic Therapy, including specific therapy programmes for dyslexic pupils and music therapy.
For further information on the Education at Cedarwood, please visit the respective school links at the top of this page.
Living Values
Cedarwood's values are:
Tolerance and acceptance of others
Respect
Responsibility
Empathy
Recognition and development of strengths
Support for weaknesses
Flexibility and accommodation
Collaboration
Lifelong learning
Increased participation
All this is done with the ethos of being SAFE, RESPONSIBLE AND RESPECTFUL
Cell phones/iPads and Tablets
The pupils are not allowed to use cellphones or iPods/tablets at school. If they bring a phone/iPod/tablet to school, it needs to be handed in to the front office, or to the class teacher (by arrangement) in the morning upon arrival at school, and it may be collected at home time. Any child caught in possession of a cell phone, iPod or tablet during school hours will have it immediately confiscated.
Some children do have permission to use iPads or laptops for assisted learning.
Communication
In the Foundation phase, pupils are issued with a Communication Book, which is used on a daily basis between home and school. Every week the teachers will send out the Weekly Communication for both college and prep.
Extra Mural Activities
Cedarwood offers a variety of extra-mural activities which are offered by staff members and change from term to term. Examples of activities are; swimming, drama, arts and crafts, cookery, cricket, tennis, netball, soccer. Please check the newsletters for more information regarding the choice of activities.
All pupils are encouraged to participate in at least one afternoon extra mural activity. We expect pupils to be committed to the school teams they are selected for.
There are also activities offered privately, and at extra cost e.g.; horse riding, judo, playball, play golf, yoga, and gymnastics.
Prep Homework
Homework is a daily requirement and all pupils are expected to do some sort of homework activity. Homework should be an extension of classwork not new work, and should not take longer than 30 minutes for Grade 1 – 3, 45 minutes for Grade 4-6. We encourage all pupils to read everyday. A homework book is used to communicate with the parents, and this should be signed daily.
Houses
There are three houses in the Prep School, namely:
Lions (red)
Tigers (yellow)
Leopards (blue)
There are two houses in the College, namely:
Falcons (purple)
Eagles (green)
Siblings will automatically belong to the same house.
Pupils may earn house points during the course of a week, and a House of the Week trophy is awarded at assembly.
House captains, vice House captains, and house monitors are chosen from the Grade 6 cohort at the beginning of the year.
There is an inter-house sporting event every term (gala, athletics and soccer/netball), and cultural inter-house activities also take place occasionally (e.g.; quiz)
Individual Extra Curricular Achievements
Please inform us if your child receives any special achievements outside the ambit of the school. These may be written up in the Individual Achievements book, (in the foyer) and special mention will be made at assembly of the following week.
Lost Property
Please check the box in the foyer for lost items. All marked clothing will be returned to the rightful owner once a R5 fine has been paid, which is donated to the SPCA. PLEASE ensure all your childs possessions are clearly marked.
Any unclaimed items at the end of the term will be donated to charity.
Medication
Parents have to complete the permission form for any medication to be administered to pupils. Please ensure that we have all correct details and medical information, including medical aid details. You will be required to update this information annually, by completing a form at the beginning of the year.
MySchool Card
Cedarwood raises funds for the school through the MySchool Card initiative. An application form is available in the enrollment pack. Please support this fundraiser.
Prep Outings
In order to extend the pupils knowledge and develop their interests, many day trips are arranged throughout the year by the class teachers. Field trips/tours which involve overnight stays are arranged annually for Grade 4, 5 and 6 pupils.
PTA
The parents association works to strengthen communication between staff and parents. The elected committee meet regularly to provide practical assistance in all areas, especially fundraising. All parents are invited to join the PTA. Watch the newsletter for more details.
Parking
Grade 1-2 parents may park in the parking area near the small green gate, from where the pupils are to be dropped off and collected. Grade 3-12 parents are to use the top parking area and drop off/pick up point at the green gazebo. Please note the shade carports are for staff only.
Please ensure that you drive safely through the campus, speed limit is 15kms.
Dunmaglass Road has a 40km speed limit.
It is recommended that you do not access Main Road from Dunmaglass Rd as it is a dangerous intersection. Rather go around the block in a northerly or southerly direction and use the traffic lights at Zinnia Rd or Lachlan Rd (Leeukop prison).
Reports
Prep School reports are issued termly (i.e. three times a year)
College School reports are issued termly (i.e. four times a year)
Security
All parents are required to have a Cedarwood car sticker. Security has been instructed not to allow anyone access that does not have a sticker. They will be required to sign in.
Term Calendar
The Prep school follows the Independent School 3 term calendar. The College follows a 4 term calendar. These are available on the website.
Therapy
All remedial/scholastic therapy is included in the school fees.
Grade 1 has one session of Speech and Language Therapy per week (individual or group) is included in the school fees.
Speech Therapy, Occupational Therapy, Physiotherapy and Play Therapy is available on site, but is for the parents own account (claimable from medical aid).
Tuck shop
The school tuckshop is open every day. The emphasis is on healthy food.
Uniform
All pupils are expected to adhere to the Cedarwood School dress/uniform/sport code as per the uniform list.
All Uniform requirements are available at McCullagh & Bothwell at Fourways Crossing. The PTA has a small selection of second hand uniforms for sale, as well as House caps and swimming towels.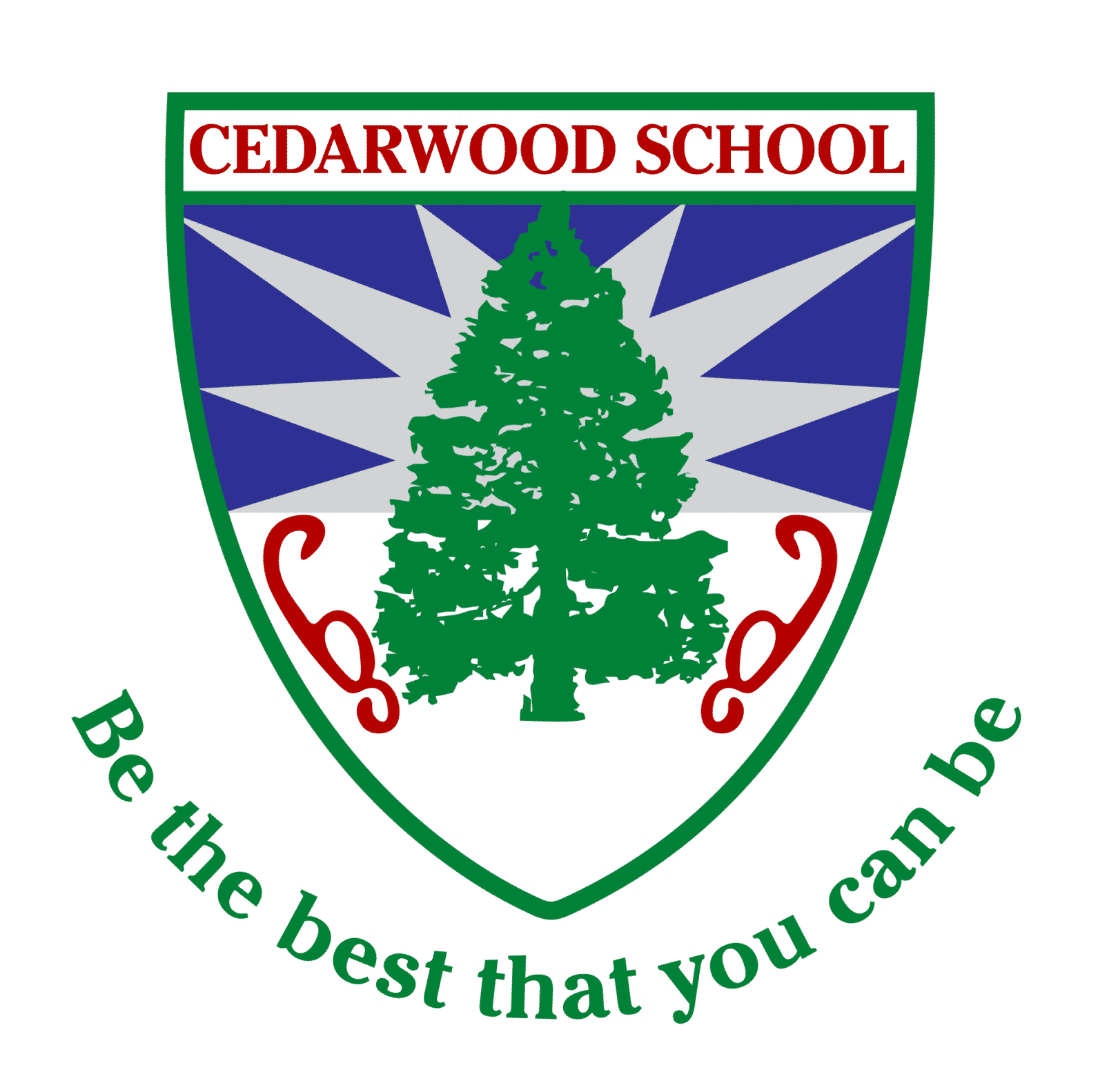 Address
113 Dunmaglass Road
Glenferness
P.O. Box 812
Witkoppen
2068